Hi! I'm

Staffy
Kru (Instructor)
I didn't step into a ring until I was 39. I didn't even wrap my hands, put on a pair of gloves, or kick a Thai pad until I was 37!
Conventional wisdom says eight fights at nearly 50 doesn't leave too many years for any sort of career. Fighting Muay Thai is also not the only thing in my life. I could just as easily spend it on my family, or my business, or traveling, or any number of other things. But how at all am I benefiting myself by limiting myself, by being realistic?
I've decided not to limit myself, and I'm planning on fighting again in a few months, and probably more after that. And, I know plenty of active fighters older than myself who have chosen similarly.
In life, and in Muay Thai, we have to craft our own meaning. I may not end up with 50 fights and know what it's like to give my entire life to fighting. And that's ok. I'm also not satisfied going to class a couple times a week and then ending up never having known the feeling of stepping into a ring… not that there's a single thing wrong with that – it's just not me.
What I get from Muay Thai first is my sobriety. Something that has replaced my football career that finished four years ago. I've trained two to three times a week since I started six years ago with the exception of holidays every few months and a broken nose, toes, ribs, pneumonia and a pulled back muscle, and I was still present at my Muay Thai Academy even when I was injured. I don't say that to brag, because it's not a chore. It's what keeps me sane; what allows me to challenge things in my life outside of academy, to be a good person and to feel healthy and strong. As a designer and business owner, it's also what gets me out from in front of a computer screen and into "real life" every day. It's what makes me happy.
Fighting is a lesson about myself. I battle with inner anger and the inability to step out of my head and into the present moment on a daily basis. If there is any place on this earth where you must overcome these things to be successful, it is in a fist fight.
It is also a lesson in perseverance and focus… you have to finish strong and with grace and skill, after you have just completed an arduous training session.
And, it's a test of emotional control… for me, a test of whether I can turn on the tough-guy switch within me when it comes time. You can train hard, be fit, take care of your body and know technique, but when you step into the ring, as the saying goes, it's a fight. You have to be ready to really want to hurt another human being – something that, for me at least, doesn't come naturally.
Maybe your goal is to get in shape and know how to handle yourself if you were faced with a fight. Then, fitness, courage and technique would be parts of your path. Maybe you found Muay Thai much later in life, and you want to have something new to learn. Your path involves maintaining an open mind. Maybe you came to Muay Thai young, are naturally tough and athletic, work hard, and are blessed with talent. Your path involves sticking with it until you find yourself fighting for a belt or title… or just finding yourself!!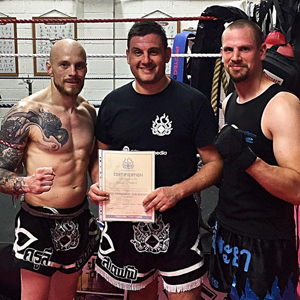 Personal Training
PT Sessions @£35 per hour
Sparring Sessions & Fight Promotion
If you want to book any sparring session or fight promotions
"I was always a chubby girl from my teenage years. After graduation, I met the love of my life and got married. It was then when I got pregnant and gained over 100 pounds. After I delivered by boy, I was at my heaviest of 350 pounds. It became difficult for me to keep up with my job and to take care of my baby. It was then that I decided that I had to do something."
"He believes that people of all ages and capabilities can benefit from exercise. He is willing to help anyone who wants to reach a certain fitness level with hard work since there is no shortcut to wellness. He works with each of his clients to make them stronger and flexible. He wants to make people good about themselves."
"Finally, comes the core strength training which is extremely effective in getting perfect abs in less than six weeks of time. Performing crunches works best on the upper abs, but at the same time, the lower abs and oblique should be strengthened which can be done with the leg – lifts. The routine mentioned above if followed is sure to give perfect abs in less than six weeks' time."