Colories 261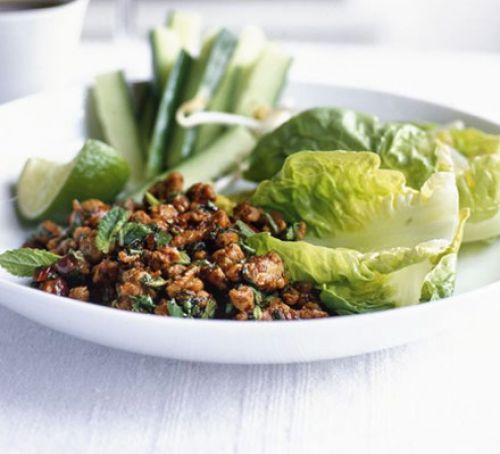 | | |
| --- | --- |
| | |
Roughly chop the lemongrass, red chillies, garlic and ginger, then throw them all into a processor and blitz until everything is very finely chopped together. Mince the chicken breasts into tiny pieces.

Heat a pan over a high heat and add the vegetable oil and the sesame oil. Throw in the lemongrass mixture and fry briefly before adding the minced chicken and the chilli powder. Stir-fry the chicken for 4 mins then splash in the fish sauce. Turn down the heat a little and allow the chicken and fish sauce to bubble together for another 4 mins, stirring, then add the chopped red onion and cook for another min.
Serve with: Baby Gem lettuces (leaves separated) cucumber, seeds removed and cut into strips lengthways and lime Lime wedges.